!Welcome to Kreation Architects!
Kreation Architects is a well known and renowned Architectural firm based in Noida Delhi NCR. We are a creative and multidisciplinary team formed by excellent professionals.  Kreation Architects was founded by our Principal Architect ZOHEB ALI KHAN. He believes "Architecture is a field where you can convert virtuality into reality."
We're specialized in great projects such as Residential, Commercial and Institutional Architecture, Hotels and Resorts in which functionality, quickness, management and ability to face difficult tasks are our professional skills.
Our services includes civil works, Engineering & Supervision in Architecture and also Interior Projects with Eco-friendly green and VASTU preference.
While Buildings and the built environment are fundamental to the way we live, so our homes determine how we work, socialize, interact and grow as a family.
Kreation Architects not only deals in Architecture but we also do interior projects
where we provides – creative design solutions while helping you to visualize your space or to redevelop and renovate your existing space. Similarly we try to understand your needs, lifestyle and space functionality. Kreation Architects focuses on harmony, tranquility and sustainability during design.
We take care of bringing innovation together with the latest market and design trends in our proposals. We're also specialized in luxury projects wherein we take care of bringing innovation together with the latest market and design trends in our proposals.
The Practice works in a completely open plan office where information can be easily and informally exchanged and likewise the advice is freely given. This allows everyone to able to exchange ideas, gain expertise and encourages full involvement in projects both large and small.
Our Philosophy
Kreation Architect's PHILOSOPHY that DNA translates the ideas of projects with sense to make them real. Because every project is unique, with its own personality, its own soul and its own DNA. So One 2 One is our planning process of a project. Our client is the pillar of the Project to ensure that their vision comes true therefore to design a sustainable structure. Our work thrives on established and new client relationships both local and national and we continually seek to broaden our business network with positive and effective people. Furthermore our team takes over everything, from an idea and concept development to realization. Above all we strongly believe in traditions and incorporate them into our innovations. All of our projects therefore incorporate a unique artistic image and functional solutions.
It is our aim to use even more experience to make each project run smoothly and be a rewarding experience for everyone involved.We pride ourselves with the personal attention provided to each client and project. Our dedicated staff strive to ensure that the experience of working with us is one our clients will want to repeat time and time again..
As per nowadays requirement (in Residential, Commercial or Institutional etc), Kreation Architects likewise has capability to Design to meet Client's expectations. Due to our hard work consequently our achievements has been published in Various Architectural magazines like GREEN CONSTRUCTION+DESIGN and other magazines. Above all our prime objective is to achieve certainly the excellence in design, perfectly in balance to both time and cost. We are even more committed to emphasize communication and design for the people and environment.
We have done Projects almost in every sector specifically including :
Residential (both Group Housing and Residences), Commercial, Hospitality, Hotels, Interior Design, Institutional, Public Sector, Renovation and VASTU. Furthermore we deal in Residential, Farm houses, Villas, Group housings, Corporate offices, Institutional, Hospital, Hotels, Shopping malls, Banquets etc. For more kindly visit our facebook page Kreation Architects in Noida.
THE PORTFOLIO
Our Projects
Kreation Architect in Noida has completed various projects in various sectors including Residential, Commercial Projects, Interior Projects. Check some of our Projects below
Institutional – School at Noida Sector 115
admin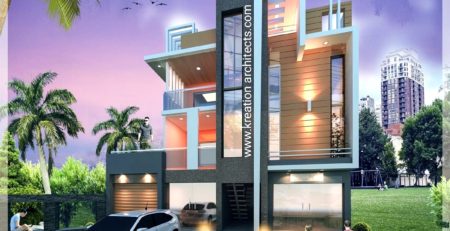 architects in noida sector Kreation Architects in Noida is a well known firm. We are a creative and multidisciplinary team... read more
Architects & Interior designer in Dehradun Kreation Architects in Noida is a well known firm. We are a creative and... read more
GET IN TOUCH
Contact Us

Architects and Interior Designers
Address: C-305, Express Zenith, Sector – 77, Noida, Uttar Pradesh.